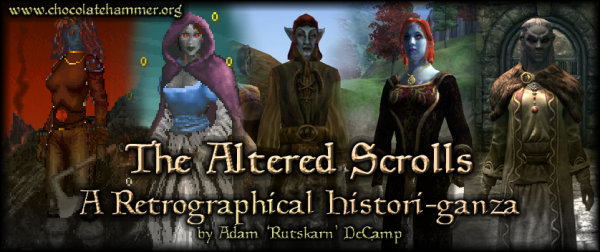 The Elder Scrolls III: Morrowind has the best presentation of a unique, colorful, gripping milieu in the entire Elder Scrolls series–but we can't talk about that yet. Because before we get to the good part of Morrowind, we're going to have to do what plenty of people failed to do: suffer through its bullshit. Like its predecessors, Morrowind was as approachable as the rotted feral zombie of a terrorist skunk.
And it really must be emphasized that Morrowind's problems were nothing new for the series. In many respects Morrowind was a significant step up from its forebears; it just so happened that in those same respects, it was about a half-step behind for the era. For example, the interface was busy and content-dense as it had ever been, but at least it was centralized (I'll get into this a bit more later, and again when I cover Oblivion). The journal that tracked quests and conversational elements was a joke, but at least it was comprehensive and helpfully hyperlinked, unlike in Daggerfall and Arena where the journals felt haphazard, incomplete, and painful to sift. And yes, there wasn't a lot of in-game instruction to teach players just what the fuck the difference between Absorb Health, Damage Health, and Drain Health was supposed to be, but at least now when you cast the spell you could sort of figure it out from cues in the health bar (admittedly patched in) and enemy noises. So for accessibility Morrowind rates a solid, "Shows improvement," unless you aren't an apologist fan trying to put your inability to criticize a good game into context, in which case it continues to rate the rotted feral zombie of a terrorist skunk.
Let's talk about combat.