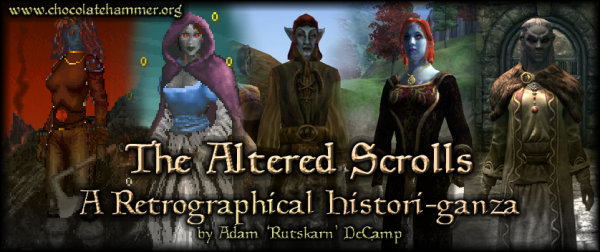 As I discussed last time, the series' abstract dice-rolling combats felt–with the advent of more precise graphics and more engaging action-game contemporaries–increasingly alienating and unsatisfying. Players could now see that they were holding up their end perfectly; when they clicked the mouse, they saw their spear go right the enemy's bean, dead on the money. Hearing that damnable teeth-grinding whff that signaled a wasted attack felt like getting punished for something that was the character's fault, not the players'. As far as cardinal RPG sins go, creating a deliberate and hostile disconnect between player and character ranks highly.
Morrowind was just about the last videogame to learn the lesson: if you're gonna roll dice, roll dice. Asking players to successfully perform a task and then rolling to see if it succeeds is just frustrating and obnoxious.
Until, that is, the player outgrows failure. And here we come to the bold design decision that kept Morrowind's slog of a beginning from being an evergreen parade of suck.
…
The paralyzing thing about this series is that no matter how thorough I am, there's always going to be more to talk about. Case in point: I nearly wrote this entire series only about the subject I'm about to explore, and this will be the first time it's been brought up at all.
Let's talk about level scaling.
Working definition: "the alteration or curation of available content, such as monsters, treasure, and quests, to reflect the present capabilities of the player character." Level scaling is the most controversial issue pertaining to the Elder Scrolls franchise, and it absolutely fucking deserves to be, because it is no exaggeration to say that it is the soul of each game. Level scaling is the single most important factor any open world RPG has to consider.
Every Elder Scrolls game, when you get down to it, is showing the player a map and asking "Where would you like to go?" Level scaling dictates what happens when the player makes that choice. It affects every detail of every player's journey from the top down.
By and large, Arena and Daggerfall took the safe route. They waited for the player to point at a location, then shrugged, checked their level-appropriate encounter lists, and dropped in some appropriate monsters and treasure. It was a perfectly legitimate and straightforward approach–they let the player go anywhere and made sure there was always a fair fight and a fair reward waiting there. The world was a big blank they filled in with the right stuff as the player went along, and it was hardly considered that it could be otherwise.
And then Morrowind came along. Morrowind was the first TES game to look at where the player pointed on the map, check its notes, and have the guts to say: "Huh, that's a cave of monsters ten times your level. And treasure that, if sold, could upgrade every piece of gear you own twice over. So what are you going to do about it?"
Not that it announced things so cleanly. Morrowind took an active and comprehensive disinterest in the player's level; players had to figure out an encounter was too tricky through trial and deadly error. Leading players weaned on the Daggerfall experience and unimpressed with the brutal difficulty of just about any early fight to conclude that the game had some serious difficulty issues and wasn't worth further effort.
For those who stuck around, Morrowind's lack of level-scaling had a lot of really solid, practically unique benefits. For one thing, the already-cohesive world felt all the more real because it felt objective. Caves full of high-level monsters were there whether or not players were bad enough dudes to go in and win fights in them.
Morrowind also left a lot of really good, expensive loot lying around the place and was charmingly indifferent to the prospect of low-level players getting twinked out in high-end gear. Even first time players, if diligent and risk-taking, could come across windfalls that in any other entry in the franchise would be seen as wholly inappropriate.
Many of the most powerful rings in the game are just lying around in random no-account ancestral tombs. An enchanter found early on has hundreds of thousands of gold worth of equipment on her desk, and can be robbed blind within the first five minutes of gameplay if you know which shops to hit and which potions to buy. A pair of boots that increase speed by twice the maximum attribute value can be won in exchange for going on a walk with a traveler. The game didn't worry about giving players the "right" gear for their level, because why bother? What was the possible downside of a player being more powerful?
And that's where we come to the most critical, beautiful consequence of Morrowind's laissez-faire approach: the death of the "fair" fight.
Level scaled games constantly worry about fair fights. Every combat is supposed to exist somewhere on a graph of "easy but not insulting" to "challenging but doable." This is a very hard balance to strike, given the fact that the character build is entirely in the hands of a possibly uninformed/hyperinformed player; the absolute last thing any sensible designer needs to do is fuck it up by throwing gear around willy nilly. The ultimate failure of a system like this is presenting a fight that is neither respectably challenging nor theoretically possible, and unless strict regulation are instituted, high-level gear can snarl up the calculus.
Here's the thing, though: Morrowind doesn't give a shit about any of that. For a new player, almost every fight they could theoretically get into would be too hard–picking a fight with anyone outside of the designated vermin-and-crappy-bandits zones is a recipe for disaster. Players are asked to just suck it up and deal with that, and that's a pretty stern demand to make. But there is a flipside: eventually, as a player advances, there will come a time when almost every fight is trivially easy.
When I finished Daggerfall, it's hard to say I actually felt more powerful than I did when I started. In the first dungeon I was killing rats with a couple swings of an axe. In the last dungeon I was killing atronachs with a couple swings of an axe. The monsters got bigger and tougher looking, but my effort remained the same. All my fancy magic items and treasure, too, existed only to help me break even with the ever-increasing difficulty of my foes.
But when I finished Morrowind, you can bet I felt different. I would punch enemies to death just because I could. I would let high-end enemies attack me just to watch in amusement as their own attacks fatally reflected. I could walk around knowing there was absolutely nothing I couldn't kill handily, and frankly, when I looked back on my feeble struggles with cave rats just a few dozen hours before, I felt pretty good about how far I'd come. I had gone from one end of the scale to the other
The game that sat back and watched while a crab effortlessly murdered me at level 1 was happy to watch while I meted out the same treatment to its final boss. You gotta respect that.
Morrowind was the first Elder Scrolls game to give the player this feeling of constant, objective progress.
It was also the last.
Next installment: It's the little things…