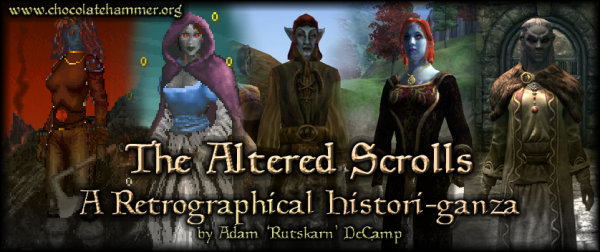 Sometimes you're at a used bookstore and you pick up an old paperback fantasy novel you've never head of. You're not even sure why you buy it–maybe you like the cover, or the summary on the back was well written, or the author photo is of somebody who's not a hirsute chunky American white dude. Nothing specific. Nothing you can really point to later.
You don't read it right away, because it's not that kind of purchase–you just throw it onto the backseat of your car and forget about it for a couple days. Later you're getting out of your car and you remember to  bring it in and put it on your desk. Then one day you sit down with your lunch, realize you left the Comic History of the Peleponnenisan War you'd been reading at home–and your hungry eyes fall one the cover of that paperback . Chapter One; Page One.
From that lunch break onwards, you find yourself coming back to the paperback regularly. It's good–but it's not really that it's good. It's that it's weird.
The hero is born in a village that isn't burned down by orcs. Magic rules are patterned around some obscure historical mystic tradition that doesn't comfortably conform to established conventions or even vocabulary–spellcasters aren't wizards, but byrzkars, and that's somehow relevant. Elves aren't haughty fey, which would be cliche, or evil celestial beings, which would be the edgy cliche–they're some third choice that doesn't seem to have anything to do with anything anyone's done with elves before.
It's kind of like you showed up to watch a stringed instrument contest. For hours you hear everything from Jim Croce acoustic guitar to twanging Southern six-string riffs to wailing glamrock solos to doom-shaken death metal crunch. And just when you're trying to figure out where on the sliding scale of soft folksy guitar to ear-splitting electric guitar your tastes lie, some guy comes on with a cello and effortlessly changes the context of the entire show.
That paperback fantasy novel probably won't end up being your favorite ever. It may not be the first book you recommend to people. You may not even seek out other work by that author. But years later, if you come across the spine of that book on your shelf, it'll all come rushing back. For better or for worse, that book was different enough to stick with you to the grave.
Give it time, and that's exactly what Morrowind is. It may not be your favorite videogame, but give it time and something about it will crawl into your brain and refuse to leave.